<![if !vml]>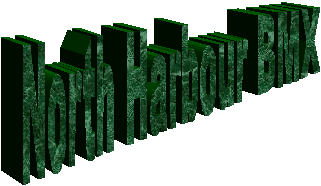 <![endif]>                        <![if !vml]>

<![endif]>                                                                         
                                                                                                                               <![if !vml]>
<![endif]>
                                                              PRESENTS                                                                      Takapuna
Bikes Direct - North Harbour Chocolate Meet
                                                                                    and
                                                        Round 9 of Superclass Series
                                                             [As in BMX NZ 2002/2003 Rules and Procedures Handbook]
                                                         SUNDAY 16th March 2003
<![if !supportEmptyParas]> <![endif]>
Category 6 meeting                                                                           Superclasses                                                               
UCI Ages

JUNIOR UCI 8 & UNDER MIXED

 

$10 PRE Entry/$15 on the Day

Novice

100% pay back, purse $40.00 divided between Top 8 Riders

Unisex

Junior UCI 9,10,11,12  $10.00 PRE Entry / $15 on the Day

Girls may race Down one age year

100% pay back, purse $60.00 divided between Top 8 riders

<![if !supportEmptyParas]> <![endif]>

Junior UCI 13,14,15  $10 PRE Entry / $15 on the Day

<![if !supportEmptyParas]> <![endif]>

100% pay back, purse $100.00 divided between Top Eight Riders

<![if !supportEmptyParas]> <![endif]>

Senior UCI 16 & OVER  $20 PRE Entry / $25 on the Day

<![if !supportEmptyParas]> <![endif]>

100% pay back, purse $200.00 divided between Top Eight Riders
Classes
5 & under mixed, 6, 7, 8, 9, 10, 11, 12, 13, 14, 15, 16, jnr Elite, Elite, 30+ & over
Cruiser
10 & under mixed, 11-12 mixed, 13-14, 15-16, Jnr Elite, Elite, 30-34, 35-39, 40-44, 45-49, 50 & over
Female Cruiser 13-16, 17-29, 30-39, 40 & over
Format
4 Motos Top Eight To Deadman Final, Deadman consolation if over 8 riders in a class
3 Riders constitute a class
North Harbour reserves the right to amalgamate classes subject to entry
Entry Fees                                        NOVICE CLASSES
$12.00             Per rider                        ENTRY FEE   $12.00
 $8.00              Second class                   CLASSES  7 & UNDER, 8 - 10, 11 & OVER
Awards                                             4 MOTOS Points over all
Easter Eggs To ALL Riders
Registration   9.00 - 10.30 a.m.
Racing           11.00 a.m.
Post To   North Harbour BMX Club, P.O. Box 100-768, North Shore Mail Centre
Entries Close 9th March  [cheques made out to North Harbour BMX Club] email entries welcome.
Disclaimer NORTH HARBOUR BMX CLUB ACCEPTS NO RESPONSIBILITY FOR DAMAGE OR INJURY TO ANY
                       PERSON OR PROPERTY WHILST PARTICIPATING IN ANY ACTIVITY OR WITHIN THE CONFINES OF THE NORTH HARBOUR BMX TRACK.
Track address and contact phone number as in BMX NZ 2002/2003 Rules and Procedures Handbook
Licence

Number

Riders

Name

DoB

Club

Bike

#

M/F

20"

Cr

Novice

BMX NZ

S/CLASS

S/C

Fee

<![if !supportEmptyParas]> <![endif]>

<![if !supportEmptyParas]> <![endif]>

<![if !supportEmptyParas]> <![endif]>

<![if !supportEmptyParas]> <![endif]>

<![if !supportEmptyParas]> <![endif]>

<![if !supportEmptyParas]> <![endif]>

<![if !supportEmptyParas]> <![endif]>

<![if !supportEmptyParas]> <![endif]>

<![if !supportEmptyParas]> <![endif]>

<![if !supportEmptyParas]> <![endif]>

<![if !supportEmptyParas]> <![endif]>

<![if !supportEmptyParas]> <![endif]>

<![if !supportEmptyParas]> <![endif]>

<![if !supportEmptyParas]> <![endif]>

<![if !supportEmptyParas]> <![endif]>

<![if !supportEmptyParas]> <![endif]>

<![if !supportEmptyParas]> <![endif]>

<![if !supportEmptyParas]> <![endif]>

<![if !supportEmptyParas]> <![endif]>

<![if !supportEmptyParas]> <![endif]>

<![if !supportEmptyParas]> <![endif]>

<![if !supportEmptyParas]> <![endif]>

<![if !supportEmptyParas]> <![endif]>

<![if !supportEmptyParas]> <![endif]>

<![if !supportEmptyParas]> <![endif]>

<![if !supportEmptyParas]> <![endif]>

<![if !supportEmptyParas]> <![endif]>

<![if !supportEmptyParas]> <![endif]>

<![if !supportEmptyParas]> <![endif]>

<![if !supportEmptyParas]> <![endif]>

<![if !supportEmptyParas]> <![endif]>

<![if !supportEmptyParas]> <![endif]>

<![if !supportEmptyParas]> <![endif]>

<![if !supportEmptyParas]> <![endif]>

<![if !supportEmptyParas]> <![endif]>

<![if !supportEmptyParas]> <![endif]>

<![if !supportEmptyParas]> <![endif]>

<![if !supportEmptyParas]> <![endif]>

<![if !supportEmptyParas]> <![endif]>

<![if !supportEmptyParas]> <![endif]>

<![if !supportEmptyParas]> <![endif]>

<![if !supportEmptyParas]> <![endif]>

<![if !supportEmptyParas]> <![endif]>

<![if !supportEmptyParas]> <![endif]>

<![if !supportEmptyParas]> <![endif]>

<![if !supportEmptyParas]> <![endif]>

<![if !supportEmptyParas]> <![endif]>

<![if !supportEmptyParas]> <![endif]>
<![if !supportEmptyParas]> <![endif]>
<![if !supportEmptyParas]> <![endif]>